The World At War Experience
Free Transportation with reservation!
$ 175.00
Watch Video Now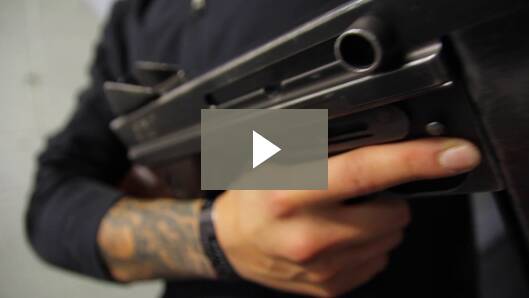 The next time you're in Vegas, stop by Machine Gun Vegas and fully immerse yourself in a pulse-pounding, action-packed experience like no other. Whether you're a history buff, a fervid gamer whose only equipment has been a Xbox controller, or a seasoned professional who is no stranger to danger, our World at War Shooting Range Experience is sure to please.
Not only will you be able to arm yourself with some of our most iconic firearms, but you'll be able to get hands-on experience with everything from vintage to modern artillery. It's time to man up and get your hands on a firearm with character. Sign up for our World at War Shooting Range Experience today!
The Firearms of the World at War Shooting Range Experience
Before you show our state-of-the-art indoor gun range who's boss, let's get a bit more familiar with the firearms included in our World at War Shooting Range Experience:
An AK 47, which is one of the first assault rifles to ever be manufactured. Though this piece of art was originally designed around the end of World War II, it's still the most commonly-used assault rifle in the world today. This firearm has been used by the good, bad, and the ugly. From the U.S. Armed Forces and beyond, this assault rifle has seen it all.
The Springfield M1911, which is a semi-automatic, magazine-fed pistol. Between 1911 and 1985, this handgun was the standard-issue sidearm for the U.S. Armed Forces, and it was no stranger to war. Due to its popularity, it hasn't been completely phased out. Modern variants of this pistol are in use today.
The Thompson, better known as the Tommy Gun, is a military submachine gun that served its duty between 1938 and 1971. This gun also became infamous during the Prohibition era, as it was commonly used by law enforcement and criminals. Talk about more cops and robbers, right? Come to Machine Guns Vegas and channel whichever side you're fighting for.
Can't Quit the Rush?
After spending a few short hours at Machine Guns Vegas, the memories of your sheer badassery are going to reshape your outlook, from feeling more confident to racking up some stellar street cred with your buddies. The only downfall is how much you're going to wish that you could experience it all over again.
That's why we're here to help. At Machine Guns Vegas, there are two ways to solve this problem.
1.) Pay an extra $125.00 to extend your World at War package, so that you can get your hands on the M1919 Browning.
2.) Make this once-in-a-lifetime experience into a tradition! We know our Gun Girls will be happy to see you drop back in!
Contact Machine Guns Vegas
For any questions regarding our World at War Shooting Range Experience, or for some assistance when making your reservation, please call us today at +1 (800) 757-4668, or drop us an email at reservations@mgvegas.com. Make your reservation today, and you'll even receive free transportation to and from our facilities, located a blink away from the Las Vegas Strip.
Your Machine Guns Vegas shoot includes:

Free transportation to and from MGV with reservation

Shoot the AK 47, 1911, Tommy Gun

Add on the 1919 for $125.00